Men's Spring Fashion: New Season Essentials
/
March 18th, 2019
/
There are currently 0 comments
The days are getting longer and the first day of spring is just around the corner; it's time to put away your winter wardrobe for another year and get your new season essentials ready! However, with the fluctuating temperature and inconsistent weather that this season brings, it can sometimes be hard to know how to dress in spring.
Wondering which key pieces to add to your wardrobe? Here at Loofe's, we've got your questions answered. From jacket styles and layering to shirt fabrics and colour palettes, we've got all the men's spring fashion tips you need for this styling through this tricky transitional season.
Which spring jacket should I choose?

While now is the time to swap out your bulky winter coats, when it comes to men's spring fashion, a jacket is still a really important element of your wardrobe. With our unpredictable British weather giving us sun one minute and rain the next, you need a versatile, light jacket in spring that delivers on function, as well as style. The key is finding a jacket that's lightweight, but warm and weatherproof when you need it!
Here at Loofe's we've got some perfect options for you to choose from. Featuring a breathable mesh lining, full zip front and hood, a GYM KING jacket like the popular Mens Headlock Windbreaker is a great option for spring that ticks every box. Another great choice is a Lacoste lightweight jacket like this Mens Hooded Blouson Jacket that brings a sporty aesthetic to your look. Or, if you want to add a pop of colour to your wardrobe, opt for a design like C.P. Company's weatherproof Mens Chrome Fabric Goggle Jacket in red, which features a useful hood and adjustable toggle drawstring.
And what's the best way to layer?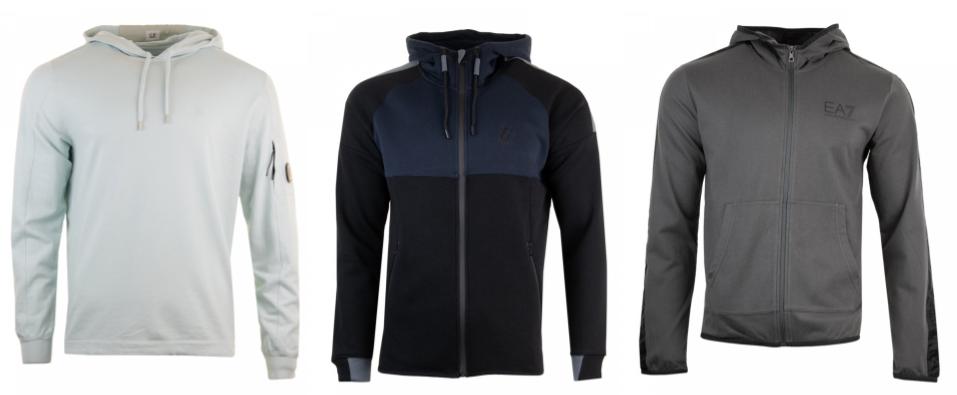 What do you wear when it's not yet hot enough to get by with just a T-shirt but not cold enough for the chunky knits that got us through winter? Forget your thick wool jumpers; when it comes to men's spring fashion, this is the season for incorporating lighter layers into your wardrobe. Think light cotton sweatshirts, hoodies and convenient zip-front designs that provide light warmth you can easily put on and take off.
Alongside GYM KING jackets, you can find a range of GYM KING hoodies here at Loofe's that are perfect styling through spring, such as the Mens Lombardi Full Zip Hooded Sweatshirt. With its soft fleece lining and cotton and polyester blend, it's ideal for offering a light layer that will also keep you warm. Another great zip-front option is EA7's 100% cotton, ash toned Mens Sleeve Trimmed Zip Hoodie that brings a luxury element to your spring casuals. Alternatively, you can opt for an overhead hoodie design like this 100% C.P. Company Mens Lightweight Hooded Sweatshirt in a light, mint colour. Versatile, comfortable and easy to style, hoodies and sweatshirts like these are men's spring fashion staples.
Which are the best shirts for spring?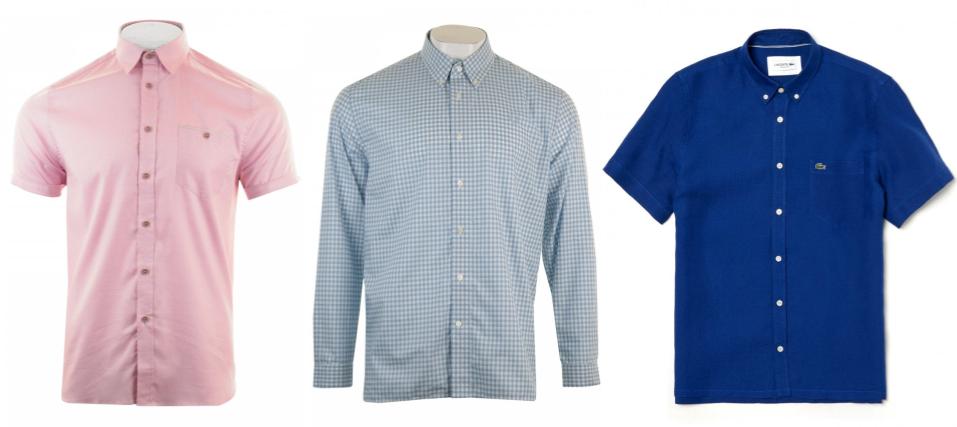 Fold your plaid flannel or thick cord shirts away; when it comes to men's spring fashion, this season is all about light linens and soft cottons. While thicker materials are great for winter shirts, spring and summer is the time to switch to lighter, breathable materials like these that will keep you cool and comfortable. Whether you're dressing for work or the weekend, a couple of go-to light button-downs are a must when building a spring wardrobe.
We've got a wide range of ideal options for you to choose from here at Loofe's, including Ted Baker linen shirts and cotton designs like its Mens Wallabi Oxford Sleeve Shirt in pink. With its 100% cotton fabric, short sleeves and light colour, its ideal for spring. Another great short sleeved option is this Lacoste Mens Short Sleeve Linen Shirt in blue. Linen is highly absorbent and breathable, making it a popular material for warmer weather. If you're looking for a classic long-sleeved shirt, a light, 100% cotton option like this Fred Perry Mens Gingham Shirt in sky blue is also a great option.
And what colour palette should I opt for?
While we're on the topic of light materials, another factor when it comes to men's spring fashion is also lighter colour palettes, too. Whether it's your choice of jacket, hoodie, shirt or even denim wash, spring and summer are about lighter and brighter colours in favour of the dark, warm tones of autumn and winter. Now we're entering into spring, opting for neutrals, whites, light pastels and bold brights is a great way to easily transition your wardrobe into the new season.
From your choice of jacket and layers to your shirt style and colour palettes, the key to men's spring fashion is swapping out both heavy fabrics and winter colours with lighter and brighter alternatives. Need to update your wardrobe for spring? Browse our men's shirts, hoodies, sweatshirts and jackets now for all your new season essentials.