A Guide To Quadrophenia: Why We Love This British Cult Classic
/
April 21st, 2022
/
There are currently 0 comments
Quadrophenia, the film which helped drive the momentum of the Mod revival of the late early 1980s, is a British cult classic.
The film is an adaptation of The Who's Quadrophenia album, which became a piece of pop culture that's highly thought of and celebrated over forty years after its release.
From fashion to film locations and fun facts, come and celebrate a pillar of British film history with our Quadrophenia guide.
Table of contents:
What is the scooter in Quadrophenia?
What is Quadrophenia?
Directed by Franc Roddam, Quadrophenia, released in 1979, is a British drama film co-written by Pete Townshend, co-founder of The Who, and is loosely based on The Who's album of the same name.
Set in the 1960s, Quadrophenia focuses on the riots between the Mods and Rockers in London's Shepherd's Bush area.
What does Quadrophenia mean?
Although not defined in the film, Quadrophenia is mentioned in the album's sleeve notes and is an amalgamation of two words, Quadraphonic and Schizophrenia.
Quadraphonic sound was one of the first attempts at surround sound and typically used four speakers for stereo instead of two. Although the trend didn't catch on, in the early 1970s, it was embraced by some music lovers who could afford the equipment's high price tag. Iconic albums, such as Pink Floyd's 'Dark Side Of The Moon', were released in the Quadraphonic format.
In 1973, when Pete Townshend was writing the album, he coined the term 'Quadrophenia'.
Jimmy, the main character from the rock opera (and later the film), was young, confused and struggling to understand his identity; he is quoted in the sleeve notes as saying:
"It must be alright to be plain ordinary mad… Schizophrenic? I'm bleeding Quadrophenic." – Jimmy
Jimmy is likening his confusion to now outdated views on the mental illness, Schizophrenia.
So, Quadrophenia combines Jimmy's love of the music-fuelled Mod lifestyle and his confusion over his place in the world.
What is Quadrophenia about?
The Plot
*Spoiler alert – this section gives away the film's main plotlines*
The Quadrophenia film follows Jimmy, a young man misunderstood by his parents who loathes his run-of-the-mill day job, working in the mailroom of an advertising firm.
To Jimmy, the life he loves begins at night when he hangs out with his clique of Mod friends, rides his Lambretta scooter, takes amphetamines, and parties.
Jimmy and his friends frequently fight rival gangs of Rockers too.
When the Rockers attack a Mod named Spider, a retaliation attack sees Jimmy's childhood friend and rocker, Kevin, caught up in a brawl.
Although Jimmy pulls away when he realises it's his friend Kevin, he doesn't stop the fight, he rides away on his scooter.
Brawls and riots continue throughout the film, culminating in the famous May Bank Holiday brawl of 1964 between the Mods and Rockers on Brighton beach.
Although Jimmy is entangled in an alleyway with his crush Steph for most of the rioting, he gets arrested and detained with his fellow Mod and idol, Ace Face, and is forced to pay a £50 fine, when he returns to the scene.
When back in London, Jimmy's life begins to unfold, and he longs for the excitement of the rioting days in Brighton.
His parents throw him out of the house after discovering his stash of amphetamine pills, then he quits his job and spends his severance on more, before finding out that his new love Steph is actually in a relationship with his friend Dave.
The tension heightens when Jimmy crashes his beloved Lambretta scooter so, he takes the train to Brighton to relive his favourite Mod memories.
At the end of the film, Jimmy spots his idol Ace Face working as a bog-standard bell boy in a hotel and feels crushed. He steals Ace's scooter and crashes it off the edge of a cliff.
The film begins and ends with the scene of Jimmy walking away from the cliff edge into the sunset.
Mods and Rockers
Although the plot is dark, Quadrophenia is a nostalgic look back to the iconic days of Mod, the sense of belonging and the close rivalry with the rockers.
"No, Kev, that's it. Look, I don't wanna be the same as everybody else. That's why I'm a Mod, see?
I mean, you gotta be somebody, ain't ya, or you might as well jump in the sea and drown." – Jimmy.
The brawls between the two subcultures featured in the film did take place over two bank holiday weekends in 1964 and led to a media-fuelled, widespread perception that the two groups were nothing but troublemakers.
Although the film has some historical inaccuracies, it is widely embraced by Mods and those enamoured by this iconic era of British pop culture.
Where is Quadrophenia filmed?
Quadrophenia is filmed in Brighton and London's Shepherd's Bush.
Although many of the locations have since changed, here are some of the famous places you can still visit if you want to take in the Quadrophenia experience:
Jimmy and Steph get up close and personal in an alley by 11 East Street in Brighton. Now dubbed 'Quadrophenia Alley', it's a hotspot for all Quadrophenia fans.
When Jimmy and Kevin go to eat pie and mash, they visit A Cooke's on 48 Goldhawk Road, near Shepherd's Bush Market entrance. Although it has since closed down, it's still a location worth ticking off for true Quadrophenia lovers.
Just north of Shepherd's Bush, Jimmy's home still exists if you want to grab a picture-perfect shot.
'Meat People' on 4-6 Essex Road has all the original art-deco features thanks to it being a Grade II listed building. A visit will evoke memories of the scenes played out in the café.
On location in Brighton, Brighton Pier, The Grand Hotel, and the ballroom's exterior from the film (which is now Brighton Sealife Centre) all have their original features. However, the iconic scene from the ballroom where Jimmy jumps from the balcony was filmed in Southgate, North London, at the old Royalty Ballroom (now a fitness centre).
Beachy Head near Brighton is the place to visit if you want to see where Jimmy crashed the scooter over the side of the cliff.
Who is in the Quadrophenia Cast?
Although relatively new and budding actors at the time, Quadrophenia's cast members featured a stellar line-up of some of today's greatest actors and performers.
Phil Daniels plays the main character Jimmy. Also known for numerous roles, such as Kevin Wicks in Eastenders and the cockney vocalist on Britpop classic Parklife by Blur, Phil Daniels is a true British TV legend.
Mod leader Ace Face is played by Sting, who was about to achieve global success with The Police at the time of the film's conception.
Ray Winstone plays Jimmy's childhood and Rocker friend Kevin, who gets attacked by the Mods. An iconic actor, Winstone has had successful roles in films such as Sexy Beast, 44-inch chest, Point Break and Black Widow.
Other notable roles are Jimmy's love interest Steph played by Leslie Ash, who found fame in Men Behaving Badly and British TV icon and writer Phil Davis, who played Chalky. British actor Mark Wingett best known for his role as DC Jim Carver in The Bill also features, as does singer and star of stage and screen Toyah Wilcox.
What is the scooter in Quadrophenia?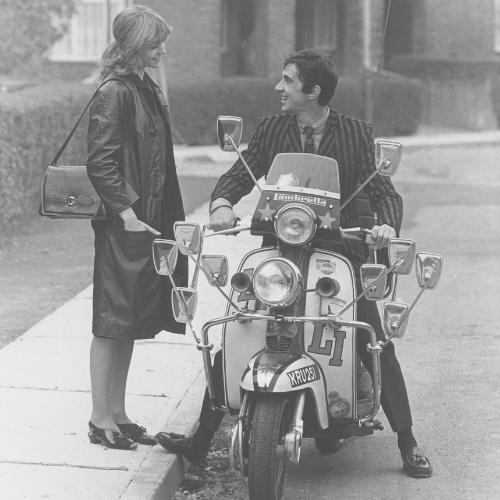 Jimmy's scooter in Quadrophenia is just as iconic as the actors and music from the film.
Jimmy's Lambretta LI150 Series 3 Scooter is the epitome of everything Mod. Built by Italian company Innocenti, Lambretta, alongside rival Vespa, built by Piaggio, was the main mode of transport used by a generation of Italians after the Second World War.
Much cleaner and more convenient than motorbikes, in the 1960s, these beautiful machines became an integral part of Mod culture. This young generation of baby boomers looked to Italian influences for the cuts of their suits and their modern methods of transport.
The enclosed engine of a scooter meant that fashion-conscious Mods could cover up their stylish clothes with a fishtail parka, arrive at the club and get rid of their overcoat with their fashionable threads still intact.
Jimmy's Lambretta LI150 Series 3 Scooter from the film sold for £36,000 when auctioned off in 2009.
Fashion of Quadrophenia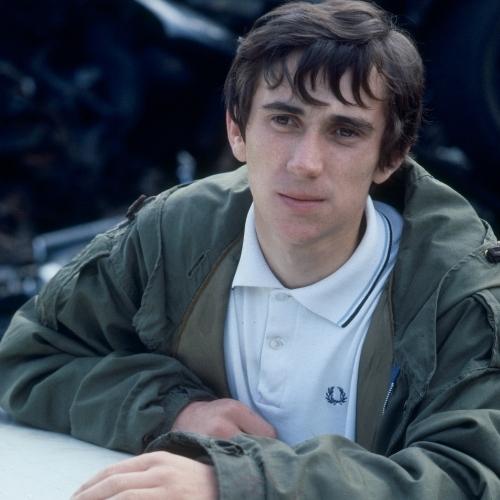 Even over forty years since its release, Quadrophenia fashion lives on.
From nostalgic Mods to younger generations inspired by this cult classic, Mod fashion can still be seen on high streets today as a dress code for the stylish elite.
Notably, two fashion staples from the film that still take pride of place in every Mod's wardrobe today are the Fred Perry polo shirt and the Clark's Desert Boot. Easy to wear and pair with other classic wardrobe staples, they are key components of the signature Mod look.
Mod fashion wasn't about labels; it was about the look and belonging to the Mod way of life. Classic, Italian cut suits, penny loafers, desert boots and fishtail parkas all feature in the film as part of the Mod aesthetic.
Conclusion
After 40 years since its original release, Quadrophenia is still a cult classic, loved for its nostalgia and representation of an iconic moment in British pop culture.
Symbolising the confusion of youth and the rebellious transition into adulthood, although its plot has somewhat dated, its message is still relatable.
The actors that filled the shoes of these troubled, fun-loving teens are loved for the affection they gave to their roles and their representation of the Mod culture of the 60s.
The locations featured still make movie location lists today and are often visited by those who love this classic British film.
The Who's music and the film's fashions live on today, as the stylish, music-loving youth still embrace the coolness and the belonging of what it is to be a Mod.
For more tips on dressing like a Mod, visit our guide linked above and fill your wardrobe with some great Mod staples.