Top 5 Style Icons To Dress Like
/
March 7th, 2022
/
There are currently 0 comments
Yves Saint Laurent famously said, "Fashion fades, style is eternal." That is certainly true for these male style icons from the world of music today.
Whether stepping out on stage or rocking the red carpet, we've pulled together 5 of the best style icons the music world has to offer to look at what they do, what makes them so stylish and which brands to choose to recreate their looks for yourselves.
From Modfathers to Madchester icons, trust Loofe's to help you dress like the stylish elite.
Table of Contents:
Liam Gallagher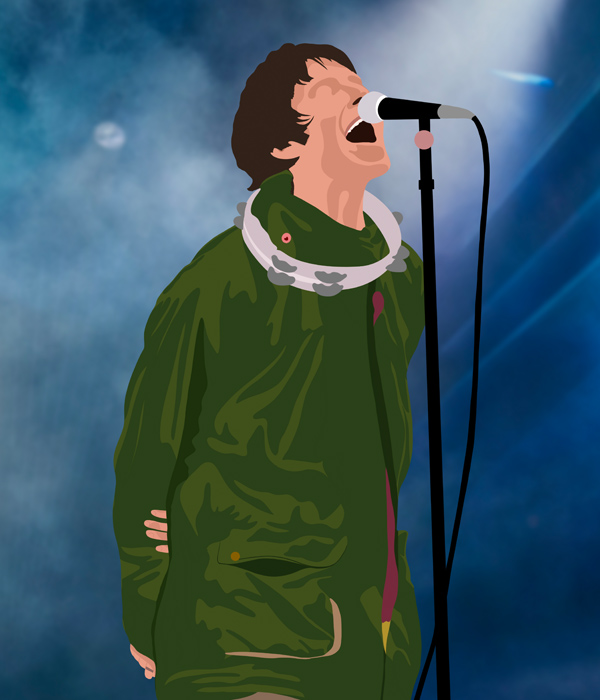 Famous Oasis frontman and now successful British solo artist Liam Gallagher is a style icon and a British music mogul.
The band that helped define Britpop, Oasis, received critical acclaim when they released their debut album 'Definitely Maybe' back in 1994. Oasis achieved global success with brother Noel's talent for songwriting and Liam's unique vocal sound.
Splitting in 2009 after growing tensions between the brothers, Liam formed the band Beady Eye with the band's remaining members. Beady Eye disbanded in 2014, leading Liam to pursue a successful solo career.
Liam's debut solo album 'As You Were', released in 2017, topped the U.K. charts achieving the title of the ninth-fastest selling debut album of the decade. Following up with a successful second album, 'Why Me? Why Not' in 2019, Liam Gallagher is a successful superstar in his own right, attracting fans across the globe.
How to recreate Liam Gallagher's style:
Liam's Gallagher's style is almost as famous as his vocals. Many of his fashion choices were inspired by casualwear, the Madchester movement, 1960s mod fashion and John Lennon's style in the early Oasis days.
Known most famously for his oversized parka, slim fit jeans and desert boots or trainers, Liam Gallagher's style has been copied by fans worldwide. It's practical, easy to wear and perfect for various situations; whether you're gracing the terraces at the football or heading to a music festival, it's never been easier to look like a style icon.
Liam loves a pair of Adidas trainers when he's not in his desert boots, often favouring the brand's Novastar range. Pair yours with jeans, a Fred Perry polo shirt as a nod to Mod and an oversized parka for complete Liam Gallager style and get ready to look like the king of indie rock.
Ian Brown
Known most famously for fronting The Stone Roses, Ian Brown is a solo artist and the style icon most closely associated with baggy fashion and the Madchester music scene.
In the late 1980s, The Stone Roses rose to the spotlight when their self-titled debut album was released. Heralded as heroes at the Haçienda club in Manchester, their album release brought their music to the masses and put the Madchester scene on the map.
The Stone Roses psychedelic guitar sound combined with a dance beat revolutionised the club scene and inspired a whole new "baggy" fashion trend. The clothes were chosen for movement; oversized, flared jeans, baggy t-shirts, football shirts and bucket-style hats were influenced by a combination of hippie styles and casual, terrace fashion.
After The Stone Roses disbanded in 1996, Ian Brown went on to have a successful solo career, with seven studio albums, countless singles, performances across the globe and an appearance in Harry Potter and the Prisoner of Azkaban. Heralded as a messiah of the Madchester music scene, Ian Brown's style is still appreciated by fans of The Stone Roses today.
How to recreate Ian Brown's style:
Ian Brown's style code is the epitome of Madchester dressing. Favouring the casual, baggy style whilst a member of The Stone Roses, his looks today still encompasses elements of this, from his casual zip-up sports jackets to his relaxed fit jeans and patterned t-shirts. Choose brands like Lacoste for their relaxed casualwear and team your look with a bucket hat for true, old school Ian Brown vibes.
Paul Weller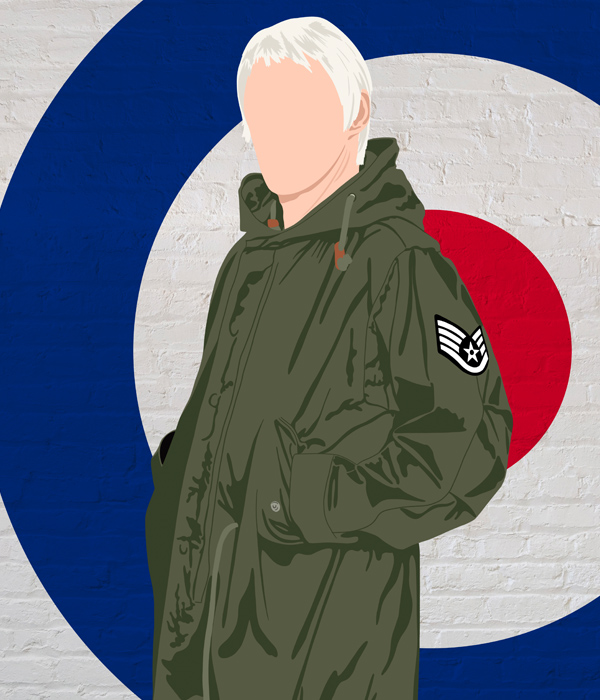 Stylish frontman of the 1970s and 80s Mod revival band The Jam, frontman of The Style Council and now the aptly nicknamed 'Modfather', Paul Weller is just as famous for his style as his music.
Breaking onto the music scene in 1976 alongside iconic punk bands such as The Clash, The Sex Pistols and The Damned, The Jam were famous for their pop melodies combined with their working-class lyrical appeal. Taking their musical influences from popular 60s Mod bands such as The Who and The Kinks, the release of their single 'Eton Rifles' in 1979 propelled them to the top of the charts, scoring them a No 3 position.
Having great success with albums and singles, including 'That's Entertainment' and 'Town Called Malice', the band called it a day in 1982, with Weller wanting to create more soulful and melodic music.
Weller went on to front The Style Council, a band that allowed him to explore more soulful, jazz and melodic pop sounds. With the change in sound, Weller's style evolved too, as he experimented with more colourful looks, including Stone Island jumpers and terrace wear.
After The Style Council disbanded in the late 1980s, Weller started to pursue his successful solo career. His 1993 release Wild Wood won him a Mercury Music Prize, and follow up album Stanley Road released in 1995 and named after the street he grew up on in Woking, is often referred to as his most successful solo album of all time.
With 17 solo studio albums, countless singles and collaborations and a style that keeps evolving, Paul Weller is one of the most successful British artists that will leave a legacy of great music and style behind him.
How to create Paul Weller's style:
Paul Weller is the king of the Mod cool and classic style. Dapper suits, jeans with trench coats, colourful terrace wear inspired jumpers, loafers, and brogues are all key pieces that will help you to achieve that stylish Paul Weller look. We recommend Oliver Sweeney shoes and Remus Uomo menswear to achieve that dapper look, and we're sure Mr Weller would approve.
Skepta
Skepta is a highly influential British grime artist and a fashion icon of high-end streetwear style.
Skepta was heavily influenced by U.K. and U.S. hip-hop, starting his career on the pirate radio circuit and performing at various MC battles. In 2005, he formed his grime label Boy Better Known with Wiley and brother and fellow grime artist J.M.E.
Self-releasing his first two albums, ' Greatest Hits' and 'Microphone Champion', it wasn't until he signed with All Around The World Records in 2010 that he gathered more mainstream success. Charting in the Top 40 consecutively with singles' Bad Boy' and 'Rescue Me' and supporting Chipmunk on tour saw his next album 'Doin' It Again' released in 2011 peak at no 9 in the Uk album charts.
Met with criticism from fans, in 2012, Skepta aimed his music at a more commercial market. As a result, the record label's planned album 'Honeymoon' was shelved, and Skepta took a short hiatus from the music scene.
Relaunching his sound in 2014 with the single 'That's Not Me' featuring his brother J.M.E, Skepta was referred to as the British artist that revitalised grime, receiving recognition from Drake and performing alongside Kanye West at the Brit awards.
His fourth album 'Konnichiwa', released again via his Boy Better Known label, reached gold status and earned Skepta the Mercury Music Prize. Featuring artists like Wiley and Pharell Williams, it helped bring grime music to a mainstream audience and solidified Skepta as an icon of the British grime scene.
How to dress Skepta style:
Skepta is known just as much for his enviable street style as he is for revitalising U.K. grime. A lover of high-end tailoring and sportswear, he even graced the runway as part fashion week for Nasir Mazhar's Spring/Summer '15 presentation pairing his look with a pair of classic, all-black Nike Air Force One trainers.
A lover of British tailoring with a streetwear twist, Skepta's style has landed him collaborations with Nike and countless style points. Go for all-matching casualwear from brands such as EA7 Emporio Armani, paired with a slick pair of trainers like Puma's retro-inspired styles to recreate his look. Or pair tailored trousers with trainers for smart-casual streetwear style.
Sam Fender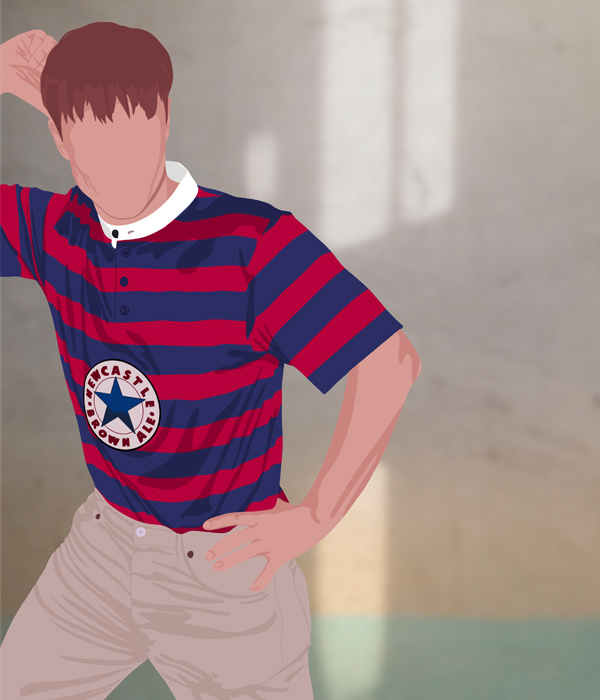 Casual-dressing North East hero and award-winning songwriter Sam Fender skyrocketed to fame, becoming one of the U.K.'s leading male solo artists. With two successful albums and two Brit awards under his belt, the future is bright for North Shields' finest export.
Fender's love for music started at an early age when, aged 8, he was given a guitar as a gift from his father when his parents divorced. He fell in love with music and was a proficient guitar player by the time he was 10.
Introduced to iconic albums from Bruce Springsteen and Jeff Buckley in his early teens, Fender perfected his vocals and wrote his own music. Performing at open mike nights, he formed his first band at 15.
In 2013, after a performance in the Low Lights Tavern, a pub where he worked, Sam Fender was spotted by Ben Howard's manager Owain Davies, who took him on as a client. He toured around the country as a supporting artist but was forced to take a break due to health reasons. It was during this time that Fender's songwriting style completely changed.
Touring with his full band in 2017, his independently released 'Play God' won a spot on the soundtrack of Fifa 19, which helped his music gather momentum. Further singles followed, including 'Dead Boys', a tribute to a friend he lost to suicide, and the song that got him an Ivor Novello award nomination.
Fender performed his first headline tour in 2018 and released his critically acclaimed E.P. 'Dead Boys', which received widespread recognition. Sam Fender's name was well and truly on the map.
His long-anticipated debut album 'Hypersonic Missiles', shortly followed in 2019, going straight to number one in the U.K. albums chart. Releasing his follow-up album 'Seventeen Going Under' in 2021, a second U.K. number one album praised by both Elton John and Paul Weller, selling out arena tours and winning awards, there's plenty more to come from this rising star.
How to dress Sam Fender style:
Sam Fender's style is both relaxed and casual. Staying true to his North East roots, he recently collaborated with Barbour. His style often involves a retro Newcastle United football shirt paired with straight cut jeans for a relaxed and comfortable look.
A lover of simple casuals such as plain white t-shirts, striped shirts and t-shirts and polo shirts, Sam Fender's style is put together but easy to replicate.
Pair some Luke jeans with an oversized Fred Perry t-shirt for a cool, just stepped off the stage look.
Dress like a style icon with Loofe's
It's never been easier to dress like a style icon than by browsing our various departments at Loofe's. Choose your icon, read our top tips on how to steal their look, then shop the links above to update your wardrobe with their signature style staples.
Related Articles: