How Has Terrace Fashion Evolved Through The Decades? History Of Football Fashion
/
August 11th, 2022
/
There are currently 0 comments
The football terraces are where fashion and football collide. Once a place to shout for your favourite team whilst sporting club colours, terrace wear today is big business thanks largely to the popularity of streetwear and collaborations between football fashion brands and popular rap and grime artists such as Drake.
But where did this football fashion phenomenon begin? And how has it evolved through the decades? At Loofe's, we're bringing you the history of terrace wear from what it is and how it emerged to how it's become a popular part of football culture today.
Read on to discover the world of football fashion. From hooliganism to everyday dressing – this is the history of terrace wear.
What is terrace wear?
Terrace wear or terrace fashion is used to describe the fashion worn by football fans while watching their team from a football ground or a football stadium's terraces.
First coming to prominence in the late 1970s and early 1980s, with the success of some British teams in Europe, travelling firms of football fans noticed the stylish fashion worn by their European counterparts and wanted to bring a touch of that to the British game.
Popular designer sportswear brands such as Sergio Tacchini, Lacoste and C.P. Company hadn't been seen on British shores before. When the fans returned home, they brought some of these fashionable looks with them, creating demand for European sportswear in the U.K.
Although this subculture was nameless at the time, these fans have later been nicknamed the casuals for their dedication to casual designer sportswear brands.
Terrace fashion has changed a lot since the 1970s, with more British brands becoming accepted as part of the look, as they were much better at withstanding the harsh British winters than the fashions adopted from Europe.
In recent times, terrace wear has evolved to be less about designer sportswear and more about wearing designer labels for a day at the football.
Today, the popularity of street-style offerings from luxury fashion brands such as Off-White and Burberry helps to keep the spirit of terrace fashion alive, bringing context to the resurging movement for younger generations of football fans.
What is the history of men's terrace wear?
Although some credit Manchester's Perry Boys with the very first incarnation of terrace wear or casual dressing, others pin its origins back to Liverpool and the fans that travelled to watch Liverpool play in the European cup.
Manchester's Perry Boys were a subculture that emerged in the late 1970s. With a love of Glam Rock, Motown, and stylish at the time 'perry' wedge haircuts, they embraced expensive European continental sportswear as part of their uniform after first discovering the look following Manchester United around Europe.
Similarly, Liverpool fans were following their beloved reds in the European cup and also began to lust after the fashions worn by their continental counterparts. Brands like Lacoste, Paul & Shark, Sergio Tacchini, Fila and Ellesse first caught their eye, and it's reported that some fans looted stores to bring back these fashions to the U.K.
With a love of ADIDAS trainers, these fans were also the first ever sneakerheads, adopting cool pieces such as ADIDAS Sambas and Stan Smiths into their look. 
Casual or terrace wear in the late 1970s wasn't all about fashion; the trend originally developed out of necessity.
The die-hard fans of football firms up and down the country were part of other subculture groups of the time, such as the skinheads, who were largely associated with violence. To control violent outbreaks between rival firms at football matches, the police patrolling the grounds began to make skin-heads de-lace and remove their Dr Martens and leave them outside of the football ground to make them more vulnerable once inside. 
By dressing in expensive sportswear and trainers instead of wearing their usual skinhead style staples, these fans could easily slip past the authorities, being mistaken as wealthier football fans who wouldn't want to fight and ruin their clothing.
Of course, this wouldn't stop the violence, but it would allow these fans to pass into football grounds unnoticed.
Memoirs and biographies from the time suggest that the term 'casuals' didn't exist and that this generation of fashion-loving football hooligans was simply referred to as 'the boys'.
This football fashion trend developed from Mod, Beatniks and Northern Soul boys. Still, as it didn't really have a particular type of music associated with it, it's often overlooked as a subculture.
The casual era wasn't just territorial and violent; it was as much about the fashion as the fighting, with fans at some points in its history more likely to be verbally attacked for wearing seemingly unfashionable sportswear than physically attacked over territory.
However, terrace fashion or casuals helped to drive a love of casual sportswear in the 80s that would go on to take off across Britain.
Football fashion in the '80s
The casual sportswear trend took off in the '80s. What started as a celebration of European sportswear changed dramatically when the UEFA changed the rules and the European Cup and Cup Winners cup competitions started to only accept a single team from each nation. This heavily restricted British fans' access to European sportswear brands.
The harsh British weather and diminishing access to European clothing saw football fashion start to embrace homegrown brands such as Fred Perry, Scottish knitwear brands Lyle & Scott and Pringle and British brand Aquascutum, loved for its weatherproof fabrics and stylish look.
By the end of the 80s, the rise of Madchester, rave and acid house saw the casual subculture begin to fade as football fans embraced new trends.
Terrace fashion in the 90s and the impact of Stone Island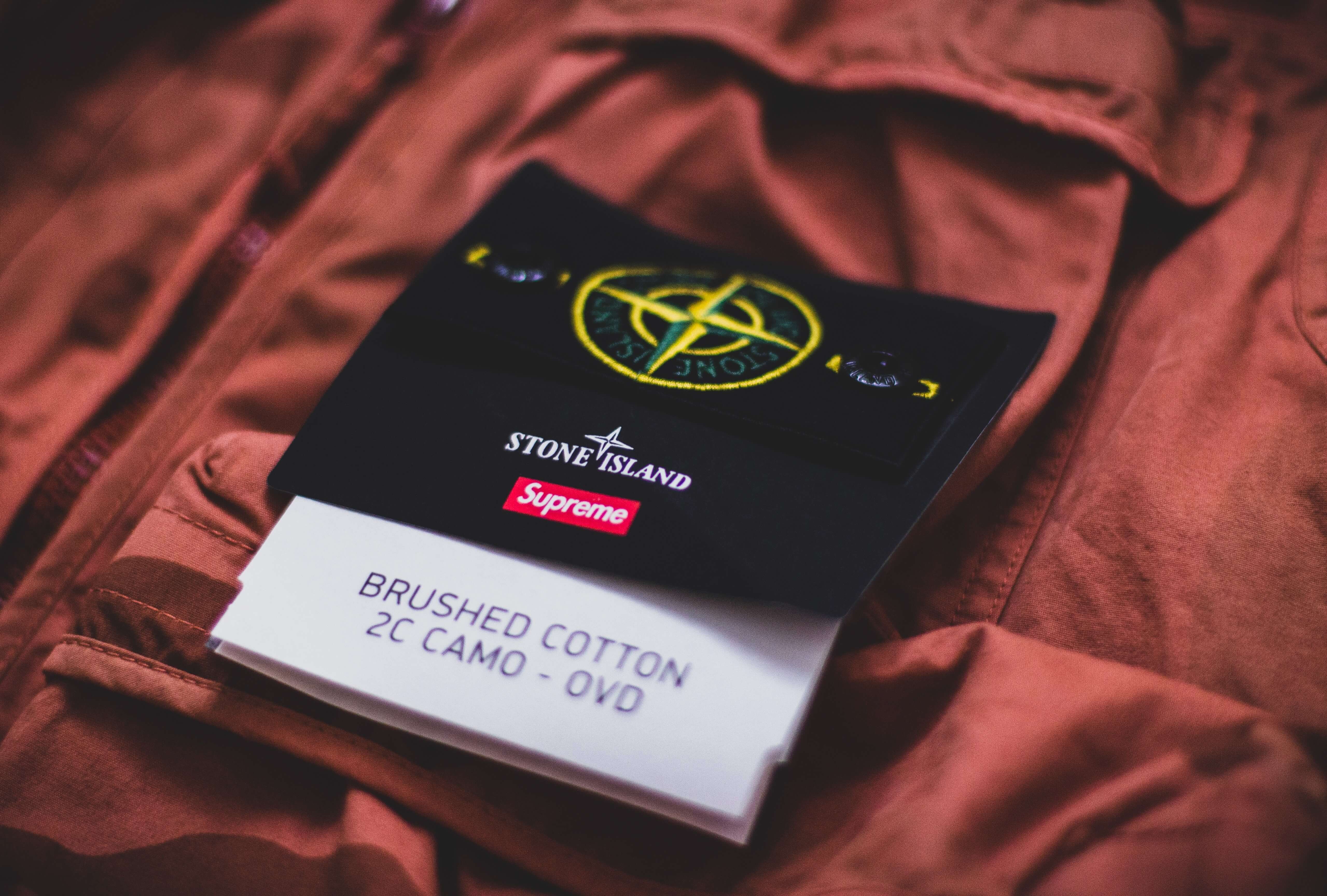 By the mid-1990s, casual fashion was on the rise again.
In 1992, the European Championships in Sweden saw fans travel to support England in their opening group games. Although it wasn't a successful tournament for England, many fans looted a clothing outlet named 'Genius' whilst out there, packed with C.P. Company founder Massimo Osti's relatively new brand Stone Island.
Stone Island became the new brand to wear on the terraces. Easily recognised by its compass patch on the arm, the brand became an iconic hooligan football staple. And with mass media coverage raising the casuals' profile, the brand rose in popularity as the go-to for some of the most prominent football firms.
Again to avoid police attention, some fans removed the Stone Island patch from their clothing (leaving behind a black velcro patch, always a removable feature of the clothing). Football fans could still be identified as hooligans, and the black patch became just as iconic a representation of the marriage between football hooliganism and Stone Island as the wearing of the compass logo.
With the rise in Britpop and bands like Oasis and Happy Mondays fully embracing the causal aesthetic, these new football fashion fans finally had their soundtrack. Noel and Liam Gallagher became poster boys for the new generation of casuals, with their music being played in every pub around the U.K. on match days.
By the early 2000s and the rise of CCTV and football banning orders, hooliganism had virtually died out. This meant that all football fans could adopt casualwear without danger of being associated with violence or getting pulled into a brawl by a violent firm.
The violent days of the football casual have been explored further in films such as 'The Football Factory' and 'Green Street' and written memoirs from ageing football fans who were part of the firms. Although the films and the books depict the uglier, more violent side of football, they are a great representation of how the aesthetic of the football casuals carried on throughout the 90s and into the new millennium.
Is men's terrace wear still popular today?
Although hooliganism is a thing of the past, the casual aesthetic lives on in football fashion today, with terrace wear now being all about looking good for the game. Many popular brands from the subculture's history, such as Stone Island, C.P. Company, Sergio Tacchini and Fred Perry, can still be seen on football terraces up and down the country and now, because of the style's connections with grime, across the world.
Thanks to the rise of streetwear across luxury brands, terrace wear is no longer shunned for its violent connotations but rather celebrated. Football fashion today is all about pairing designer labels with your team colours to carry your look straight from the terraces to a night out with friends after the game.
Shop our favourite football fashion brands at Loofe's
If you're dressing for football, shop our favourite picks from some of our top brands at Loofe's. Pair your Fred Perry polo shirt with a Paul & Shark jacket, some straight-cut jeans and some ADIDAS trainers for real terrace cool. Or, for even more stylish options, why not browse the brands linked above to stand out from the crowd next match day?