Top 5 Mini Me Styles Perfect For Dressing For The Football
/
August 11th, 2022
/
There are currently 0 comments
Football fashion has evolved since the designer sportswear days of the 1970s and the baggy fashion casual looks of the late 80s. Today, how you dress for football is just as important as the game itself.
Today's terrace look showcases designer labels paired with your team's club colours, and if you're heading to the game with your mini-me, the good news is that they can get involved too.
At Loofe's, we stock an amazing collection of kid's designer clothing brands that are perfect for dressing for football, and we've pulled together some of our favourites for you to pair up your looks ahead of the next big game.
With choices from brands with a history steeped in terrace fashion to those with just perfect mini-me fashion choices for football dressing, here are our top 5 styles perfect for dressing for the football terraces.
Table of Contents:
What is mini-me dressing?
Mini-me dressing is a growing fashion trend which sees parents and children wearing the same or similar styles from matching brands for everyday dressing and special events.
Big business in the world of designer fashion, most designer brands have a children's clothing line, where they shrink down and adapt many mainline ready-to-wear styles to create matching looks for younger children and teens.
The perfect choice for dressing for football, lots of designer brands now offer similar matching styles, so sharing your designer football aesthetic with the kids has never been easier. After all, when it comes to mini-me clothes, twinning is winning!
Top 5 brands that offer perfect picks for mini-me football fashion
At Loofe's, we stock a selection of amazing brands that offer styles suitable for pairing up your look with the kids. Here are some of our favourites, with a bit about each brand and why we chose them, from terrace wear favourites to those that offer enviable mini-me style points.
1 Lacoste
Founded by French tennis star René Lacoste in 1933, what started with a polo shirt built to enhance movement and freedom whilst playing tennis, quickly grew into an entire clothing brand.
Each Lacoste clothing item features the now iconic crocodile logo, the first logo to ever feature on an item of clothing and was created in homage to Lacoste, inspired by his nickname, 'Le Crocodile'.
In the 1970s and 80s, when casual designer sportswear was a big part of terrace fashion, Lacoste grew in popularity and is still recognised as an acceptable and stylish football fashion brand today.
Known best for its polo shirts but loved just as much for its t-shirts and sweatshirts featuring the instantly recognisable crocodile emblem, it's the perfect choice for stylish dressing on the terraces.
How to embrace mini-me style with Lacoste:
An easy style to replicate in both men's and children's wear, if you want to match perfectly, pair a men's Lacoste t-shirt with a kid's Lacoste t-shirt in the same or a similar style. They are versatile and can be paired with jeans and trainers for a sleek and chic look.
2 Fred Perry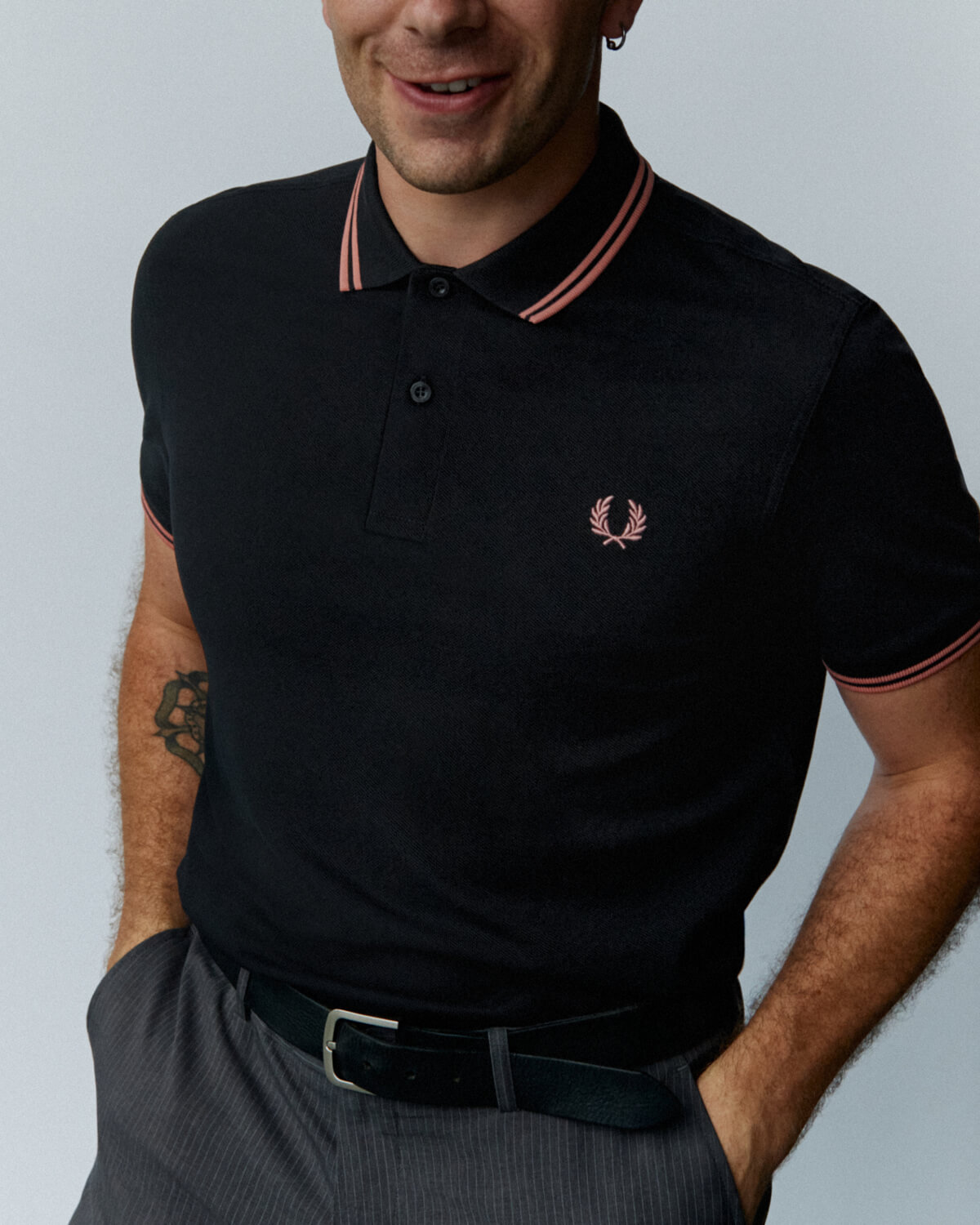 Surely one of the most instantly recognisable logos around, Fred Perry is the epitome of cool dressing. Like Lacoste, Fred Perry has its roots in tennis wear, named after Britain's most successful tennis player.
Winning 10 majors and going on to be the first player to win a Career Grand Slam, tennis authorities didn't recognise Perry's success until later in his life. A statue was unveiled at Wimbledon of Fred Perry in 1984 as a permanent reminder of the success of this iconic tennis champion.
Quite often referred to as one of the most well-dressed men in tennis – this certainly translated into his clothing brand. Snapped up first by the Mods in the 50s and 60s and then by Ska lovers and Skinheads, the Fred Perry polo encompasses stylish dressing, so it's no surprise it's long been a firm fixture of football terrace fashion.
A real style staple, a Fred Perry polo shirt is great for casual and smart-casual dressing and a perfect piece for carrying a look from day to night.
How to embrace mini-me style with Fred Perry:
The iconic Fred Perry polo doesn't just come in men's sizes; it's also available in children's sizes. From 3-4 up to 11-12 years, children's Fred Perry polo shirts are exact replicas of men's styles, perfect for easy pairing with your little man ahead of match day.
3 ADIDAS
In 1924, ADIDAS was founded in Bavaria, Germany, when Adi Dassler set himself the mission of creating the best possible equipment for athletes. However, it wasn't until 1949 that the brand as we know it today was established when Dassler registered the 'Adi Dassler Adidas Sportschuhfabrik' and registered a shoe design carrying the soon-to-be iconic three stripes just three weeks later.
In 1954, when Germany won the world cup wearing innovative ADIDAS boots, the world noticed, and the brand had finally arrived. Many sportswear styles and technology followed, with ADIDAS becoming a world leader in performance sportswear, sports technology and fashion.
Another brand adopted by football fashion fans of the 70s and 80s, ADIDAS trainers were loved by the casuals, which bred the first incarnation of sneakerheads. Although specific ADIDAS styles were favoured, such as the brand's Gazelle, Stan Smith, Trimm Trab and Forest Hill collections, most vintage-inspired styles today are widely accepted on terraces today.
Comfortable and stylish, there's nothing cooler than a pair of vintage ADIDAS trainers, teamed with straight-legged jeans and a cool parka coat.
How to mini-me style with ADIDAS:
Choose styles in our men's ADIDAS trainers range like the Court shoe, which resembles the cool, vintage style casual fans love. By kitting the kids out in similar ADIDAS court shoe styles, you'll synchronise your steps and look in style to the next big game!
4 EA7 Emporio Armani
The Armani brand was established in 1975 by Giorgio Armani, a man with a wealth of talent and expertise in fashion. After originally hoping for a medical career, life took a different path for Armani when, during a stint in the Italian army in Verona, his love of art and fashion began to emerge.
From window dresser to menswear seller and then freelance designer, it was only after meeting his partner Sergio Galeotti that he was brave enough to establish his brand. After presenting his first menswear collection in 1975, the brand continued to grow, branching into womenswear, children's wear and homeware.
Emporio Armani caters to ready-to-wear designer lovers, which is how it first became a football fashion staple. During the eighties, casual fashion shifted from designer sportswear to designer labels, and this was when Emporio Armani was first recognised on the terraces.
With more diffusion labels coming out of the Emporio Armani household, Emporio Armani's sportier sibling EA7 is featured more frequently on football terraces today. A real street style favourite, it's a perfect pick for pairing with the kids.
How to mini-me style with EA7:
Cut in matching styles, our men's EA7 joggers and hoodies match perfectly with those from the kids' EA7 hoodies and joggers collections. Featuring the same logo and matching trims, it's never been easier to twin with your mini-me.
5 Boss
Hugo Boss and the Boss brand became a football staple during the 1990s when trends shifted away from brands associated with hooliganism and more towards stylish designer labels.
First established in 1924 as a brand that made general purpose clothing, German brand BOSS is a global phenomenon specialising in men's, women's and children's clothing, alongside homeware and accessories.
Known for its classic wardrobe staples, business dress and popular leisurewear, BOSS clothing is a real mark of designer quality and a symbol representing an international fashion success story.
Although not traditionally a casual football brand, BOSS is a popular choice on terraces today for its smart-casual aesthetic for day-to-night dressing and its classic, wearable designs.
How to mini-me style with BOSS:
At Loofe's, we're proud stockists of BOSS childrenswear, so it's never been easier to pair your kids' clothes with staple pieces already existing in your wardrobe. Explore the full collection from straight-cut stylish jeans to classic t-shirts and footwear, and get ready for the beautiful game together!
Shop mini-me clothes at Loofe's today
Dress to impress the next time you hit the terraces with the kids by exploring our top terrace wear brands in perfect matching mini-me styles and shopping the links above. Pull together your football fashion staples for an enviable look that looks perfect paired with your team's colours.
Related posts:
The History Of Football Fashion
How To Dress Like A Mod: An Iconic Fashion Movement