Loofes Christmas Gift Guide
/
November 21st, 2016
/
There are currently 0 comments
With the festive season almost upon us, it's time to start thinking of those all important Christmas presents. This time of year can be hectic when it comes to searching for the perfect gift for someone special, with so many people to shop for, it can be difficult knowing what to buy for your family members, relatives or friends.
But here at Loofes, we have you covered. We feature a whole host of mens designer clothing, footwear and accessories that they will love receiving on Christmas Day. Our selection of high end menswear means you are bound to find the perfect gift for the man in your life. Whether you are shopping for Dad, brother or friend, why not treat him to something special with a range of designer clothing and footwear to choose from on our store.
We also stock kids designer clothing from a number of high end brands. So if you are looking for some extra gifts to finish off the little one's Christmas boxes this year, why not choose from our array of designer clothing and footwear for boys and girls here at Loofes. We offer a selection of trainers, tracksuits and boots for youngsters on our store from the likes of Adidas, Converse and Lelli Kelly.
Below, we have put together some of our favourite products which would make great gifts for loved ones this Christmas.
Mens
A warming hoody is the perfect gift for Christmas and our Superdry Winter Zip Hooded Top is ideal for gifting to a male relative or friend this festive season. We also stock a EA7 Train Visibility Beanie hat, which is sure to keep him warm during the colder months. If you're looking for a simple tee as a stocking filler, our CP Company Men's Logo Crew T Shirt is the perfect choice. The Nike Men's Air Shibusa Trainers also make a great gift for the man in your life, as does the Converse Core Speckle Backpack.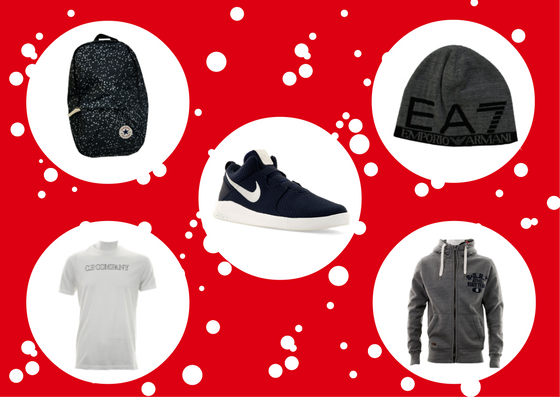 Kids
For the little ones, why not treat them to some new kicks this Christmas? We stock a whole range of designer trainers for you to choose from. Why not gift them their first pair of Converse or Dr Martens? We also feature the Lelli Kelly Juniors Sandra Glitter Boots here at Loofes alongside our Timberland Infants Crib Baby Boots Set, which would make the perfect gift for a newborn. As well as trainers, we also stock designer clothing for little ones too, so why not choose our Creative Recreation Juniors Brockton T Shirt or our Adidas Performance Infants Avengers Track Suit for your little one this Christmas?