Theatre of Seams
/
January 19th, 2016
/
There are currently 0 comments
Rarely a football club comes along and makes such a splash or an impact on the world as Manchester United have. Thanks to a host of truly exceptional players (maybe not at the moment) and probably one of, if not THE, greatest managers to ever grace the game Man Utd has become a household name and it's pretty hard to find a corner of the earth who don't have a clue who David Beckham is! Much like all football teams, though, over the years they've had some terrific and truly horrific kits, so at Loofes we've picked our favourites in both categories.
The red and white of the Red Devils has been an iconic colour for over half a century, so it only makes sense that their home kits have continued the trend. But over the years, sometimes the designers play loose and fast with the red and white theme, and along with some god-awful away and third kits they've certainly had some corkers!
The Good
1992-1994 Home Kit:
Sticking with the red and white theme of home kit, obviously, during the 1992-1994 season the Man Utd kit took a pretty stylish turn. Bang on with 90's fashion, the white coloured shirt kept with the 'baggy' trend of the early decade. The yellow/gold lettering of the iconic Sharp slogan emblazoned on the chest actually looked pretty good!
1990-1992 Away Kit: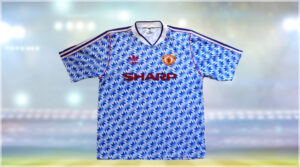 With the rave scene heating up in the heart of Manchester or 'Madchester' Man Utd jumped on the rave train with their 1990-1992 away kit. The blue flecks on a white kit with red stripes are the stuff raves clobber dreams are made of, it also made for a pretty nifty looking kit and certainly memorable.
2014-2015 Home Kit: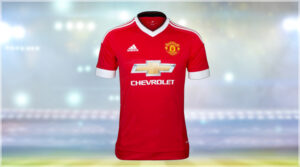 Last season's home kits was arguably one of our favourite home kits, the sleek, no collared design proved a hit with fans around the world! The added button gave it that modern look, with a bit of extra room if you were hot under the collar, pop the button for cool air instantly! The Chevrolet logo was a decent feature on the kit as well!
The Worst
1995-1996 Third Kit
Not the first away kit that was an abomination, but the  grey Man United kit was just all wrong. Adding the red and white to keep the iconic colours you'd think might work, but it just added to the overall ugliness, and this is from a time where fashion wasn't exactly at its best!
2001-2002 Away/3rd Kit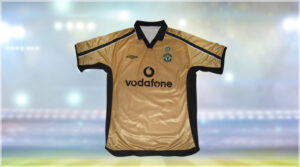 Reversible kits seemed to be all the rage then, with England having their red to blue one, and it was a decent looking kit, Man United attempt at a reversible couldn't have been more wrong. Having a white away kit isn't really that bad, a few gold touches even gave it some class, but then some genius came up with the idea to make it reversible into a complete gold and black 3rd strip. Awful.
1993-1994 Away Kit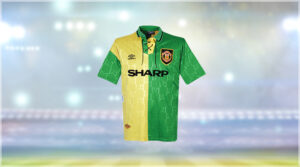 Finally the worst Manchester United kit of all time!  Bright colours were pretty popular back in the mid nineties, and tie dye was once again booming, so we're guessing Man United decided to jump on the bandwagon. Following the style and success of the 1992-94 home kit they must have thought they were a dab hand with creating stylish kits, so, of course, they designed a kit that was half green and half gold, impressing no one in the process. This kit still remains to this day one of the worst English football kits of all time, if you don't include 90's and early noughties keeper kits.
Fortunately, recently the Man United football designers have been churning out moderately stylish clothing and accessories, with their latest kits being nothing shy of iconic style and colours with that modern twist. Check out all of our Manchester United attire at in our sports section at Loofes to find yourself something great!