How To Clean Trainers
/
March 3rd, 2017
/
There are currently 0 comments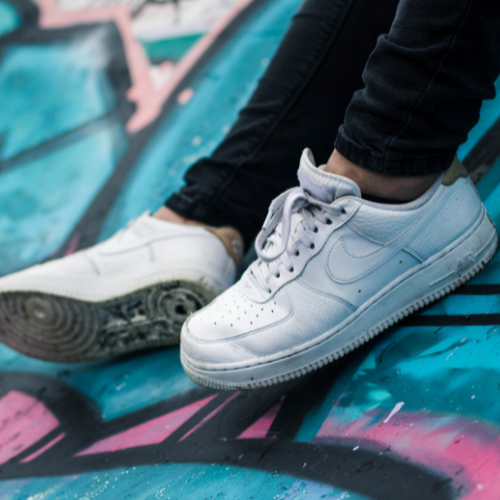 If you've been spending time and money carefully curating your trainer collection, you want to make sure you keep them looking new for as long as possible. Taking care of your trainers is the key to prolonging their lifespan and cleaning them regularly is the best way to keep them looking at their best. Whether you're considering cleaning them in the washing machine, or carefully cleaning your kicks by hand, our dedicated guide to how to clean trainers will keep your old favourites looking box fresh forever. From handy tips and treatments, to how to dry your favourite shoes, get ready to step out style with your cleanest trainers yet.
What is the best way to clean trainers?
When it comes to cleaning your trainers, there's lots of speculation around whether or not you should put them in the washing machine, particularly with more delicate material uppers such as nubuck or suede. If in doubt, always check the care label before putting your trainers in the washing machine. Most trainer's care labels won't include a temperature for the washing cycle, but they will indicate whether or not it's safe to put your shoes in the machine in the first place. Whether washing in the machine or by hand, there are a few things that you can do to prepare your shoes for cleaning and to remove more stubborn stains;-
Remove any surface mud with a soft brush, damp cloth or an old toothbrush to prepare your shoes for a deeper clean. Check the soles of your shoes for stones or residue and use the brush to remove that too.

Remove your laces, as these can always be machine washed even if your trainers can't. You could even replace your laces with a new pair for an even fresher look.

To remove more stubborn marks and stains, mix warm water with laundry detergent and add to the affected area, then rub with your soft brush to remove the stains. Use different brushes on different coloured areas to avoid any colour bleed.

For quick cleaning, a baby wipe or a wet wipe will remove light surface stains easily with minimum fuss.
Can I put trainers in the washing machine?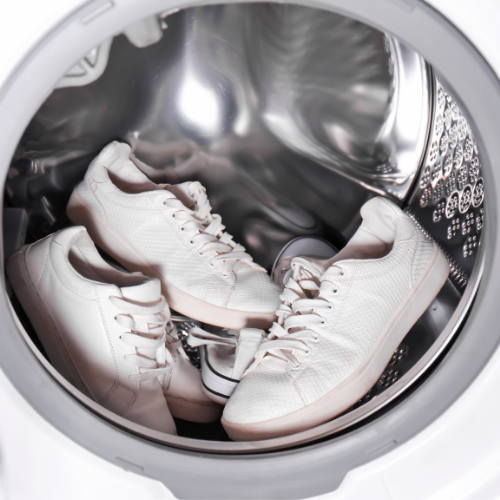 If your trainer's care label allows them to be washed in the machine, you can expect really good results. To get your shoes machine ready, start by removing the laces as you'll want to wash them separately at a hotter temperature. Scrub away any excess dirt, then place your shoes in a mesh bag, laundry bag or pillowcase and pop them in the machine. If you want to minimise the noise of your shoes bashing around in the machine, wash them with a towel, avoiding any colours that could run onto your trainers. Wash your shoes at 30 degrees or less to avoid shrinking, using a good quality detergent added when the machine has half filled with water. For best results, leave your trainers outside to air dry, avoiding direct sunlight as this could cause the colours to fade and could crack the uppers. If drying inside, choose a warm, dry area with good airflow and stuff your trainers with clean paper to absorb any excess moisture.
How do you clean your trainers at home?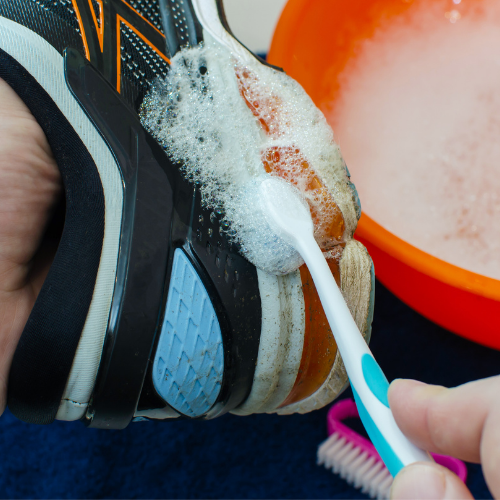 If you don't like the idea of machine washing your trainers, or their care label suggests that this is a bad idea, there are lots of other ways that you can successfully clean your trainers at home. Whether hand washing or touching up your trainers with a cleaning solution, here are a few other ways that you can get your trainers to look as good as new in just a few simple steps.
Hand wash your trainers
Hand washing your trainers is a really easy and safe way to keep your kicks looking fresh. Get yourself a bowl of warm water and add in some good quality washing powder. Then, take a sponge and start by cleaning the waterproof areas of your trainers, including those on the inside, as this will remove any internal staining and unpleasant odours. Then, change your water for a fresh bowl adding in more detergent. Squeeze out your sponge, then use it to work away at the more delicate areas of your trainers. Finally, use a soft clean cloth to wipe away any detergent residue and leave your shoes outside to dry, avoiding direct sunlight.
Cleaning general leather or canvas trainers
Leather and canvas trainers are generally more robust than other, more delicate, specialist fabrics. If you like the idea of handwashing but want to give your trainers a more vigorous clean, here are some other great tips to follow for super clean trainers every time;-
As mentioned previously, you want to start by removing your laces and brushing down your shoes with a soft brush to remove any excess dirt and residue.

Use a wet wipe to spot clean, removing any stubborn stains from the fabric uppers and midsoles. For best results, use a dab and twist method to rub the wipe into more stubborn stains.

Take a cleaning brush or old toothbrush and work hot water and cleaning solution into the uppers, scrubbing them into a lather.

Rinse and reapply to deal with more stubborn markings

If you're cleaning white leather or canvas, rub a small amount of whitening toothpaste into your fabric to brighten up duller areas.

Use a microfiber towel to remove any residue, soap and suds.

Moving on to your midsoles, add a small amount of cleaning solution to a sponge and rub away any stains and marks from all around your midsole, using your brush for a deeper clean. Then use your microfibre towel again to dry the soles of your trainers.

Allow your trainers to air dry, then spray them with weatherproof spray to keep them looking fresher for longer.
How can I get my trainers white again?
If you want to get your trainers whiter than white, there are a few ways that you can tweak your handwashing technique to get your trainers looking super clean and brand new again. Adding a few subtle ingredients to your handwashing arsenal will guarantee that your box-fresh brights stay super white!
Handwashing with baking soda
Get a small bowl and mix 1 tbsp of baking soda with ½ tbsp of hydrogen peroxide to make a smooth paste.

Work the mixture into your trainer's uppers with an old toothbrush.

Brush on a second coat of your baking soda and peroxide mixture.

Leave your shoes outside in the sun until the paste dries and begins to crack.

Brush off the excess paste to reveal your shiny, white trainers!
Hand wash with bleach
Mix a solution of 1 part bleach to 4 parts water.

Using an old toothbrush, scrub any stains until they disappear.

Enhance any whitening by leaving your shoes out to dry in the sunlight (if they have more robust uppers that won't crack)
How do you keep your trainers in good condition?
Washing your trainers regularly and rotating your favourite pairs are great ways to keep them in peak condition. Whether hand washing or opting for the machine, keep on top of any staining by removing marks and excess residue as soon as it appears to prevent stains from setting into your trainer's fabrics. Now you know exactly how to clean your trainers, why not treat yourself to a new pair? With all the latest designers and top trending styles, browse our full collection of men's, women's and kids trainers at Loofes and update both yours and their growing collection.