Manchester Facts: 7 Things You Didn't Know
/
March 16th, 2017
/
There are currently 0 comments
From Curry Mile and the Madchester era to stints in Hollywood and that terrifying noise coming from Beetham Tower, here are some of the more interesting facts about our favourite Northern city…
The Curry Mile Debate
Rusholme, just out of Manchester's city centre has become well-known for its concentration of Indian restaurants, earning it the name "The Curry Mile". What many may not know however, is that the bustling strip only actually spans half a mile. While some would say this name is misleading, others will argue that as the street is lined with restaurants and takeaways on both sides, together they do actually form a miles worth. Whatever side of the argument you fall on, that's still a hell of a lot of curries! And let's be real – "The Curry Half A Mile" doesn't quite pack the same punch.
The Birth of a Luxury Motor Icon
Manchester can pride itself as the original birthplace of the Rolls Royce. Way back in 1904, car salesman Charles Rolls met engineer Henry Royce in Manchester's very own Midlands Hotel. The duo had lunch, ideas sparked, and the rest is history!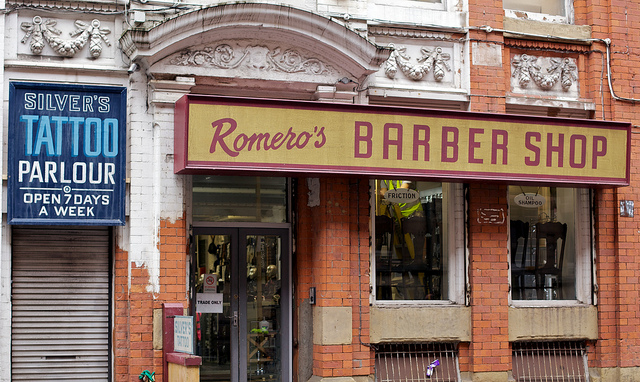 Romero's Barber Shop Captain America Set by Pete Birkinshaw CC BY 2.0
The City So Nice They Named It… erm, Once.
Manchester is in fact commonly used in film and TV as a New York stand in. From Alfie to Captain America, Manchester has donned it's Brooklyn-iest decor and made an impression on the big screen. The large open streets and vintage looking brick buildings across Manchester's much loved Northern Quarter lend themselves perfectly to a 1930s/1940s New York City: more so, it would seem, than the modern Big Apple itself! Of course, the quieter streets and much cheaper costs could have something to do with Hollywood film crews packing their bags and heading over to Old Blighty, but either way it adds a definite star quality to Manchester's streets.
Splitting The Atom
Manchester isn't all curries and football – in fact, John Dalton wrote his first atomic theory in good old Manchester. Following this, the atom was split for the very first time by Ernest Rutherford in the city in 1919 – impressive stuff!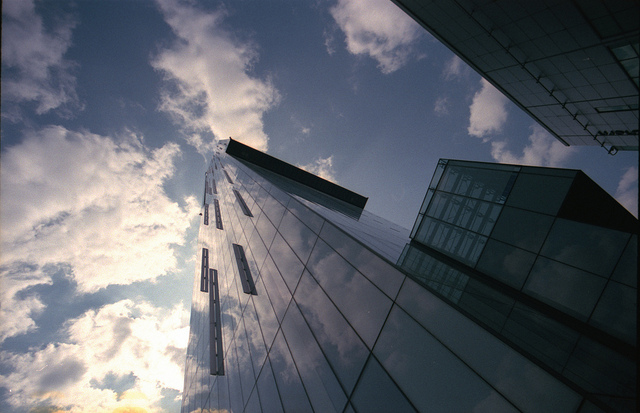 Beetham Tower by Stuart Grout CC BY 2.0
Living The High Life
Anyone who has been to Manchester will be familiar with the imposing sight that is Beetham Tower. The tallest residential building in the UK and the tallest skyscraper outside London stands at an majestic 47 storeys high, and as one of the thinnest skyscrapers in the world makes for an impressive piece of architecture. Housing a number of residential flats, alongside a Hilton hotel and Cloud 23, a prestigious champagne and cocktail bar, Beetham Tower offers a true taste of luxury… at a luxury price; flat 4305 in the building sold in 2007 for a whopping £803,500! However – before you all go running for your wallets – Beetham Tower isn't all fancy cocktails and extravagant apartments. Residents of Manchester know Beetham Tower for another reason, and that is the ominous humming noise that emits from the building in windy weather. Somewhere between a whistle and the noise spaceships make in those creepy end-of-the-world alien films, the 'hum' is actually caused by the wind running through the roofs 'glass blades'. There have been a multitude of attempts to fix the noise with the addition of foam padding to the roof of the building, however all in vain. Beetham Tower's architect – who himself lives in the building – must be kicking himself!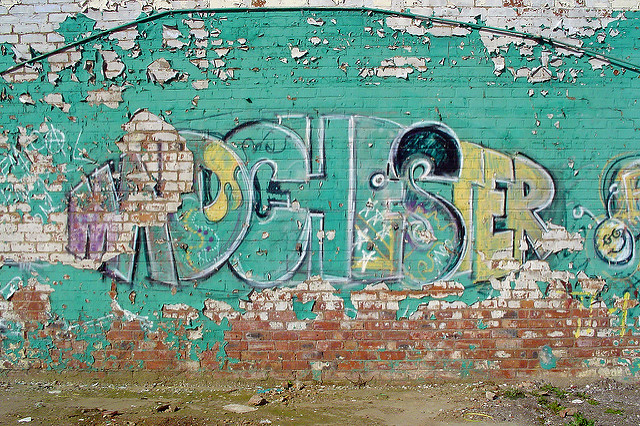 Madchester Graffiti in Salford by Mike Colvin CC BY 2.0
Sex, Drugs and Rock n Roll – the Madchester Scene
In the late 80s and early 90s Manchester developed it's very own music scene, which came to be known across the country as 'Madchester'. A fairly broad genre, Madchester covered alternative and psychedelic rock and electronic dance music, with a variety of local artists associated with Madchester including the Happy Mondays, The Stone Roses and The Charlatans. Manchesters Haçienda nightclub received notoriety during this time, cited as a major catalyst for Manchester's distinctive and unique new music scene. Beginning as a venue to showcase local live music talents, the Haçienda then switched its focus to dance music and by the late 80s was a renowned house music venue, selling out world famous DJ sets. The energy at the venue, a new interest in house music and the increasing availability of party drugs such as ecstasy all added to the creative, rebellious nature of the 'Madchester' movement, which continued going strong into the 90s. While the introduction of the US grunge scene and 90s Britpop may have been Madchester's ultimate downfall, a cultural legacy was left behind, with the effects of Madchester still reflected in the cities exhilarating nightlife and strong music scene to this day.
The Face of the Revolution…?
Speaking of the Happy Mondays, an unusual and interesting attempt to break into politics was made in 2015 by the bands Mark Berry – or 'Bez', as he is better known. In a shocking transition, the Madchester legend stood as MP candidate for the Salford and Eccles constituency in the 2015 general election, promising "free energy, free food and free anything"! What on earth could go wrong? Well, quite a lot actually. People weren't particularly inspired by the Manchester natives promises, and Bez's political dreams came to a tragic conclusion when he received only 703 votes in the election. Perhaps best to stick to what you know, eh Bez?

Old Trafford, Manchester by Sean MacEntee CC BY 2.0
… and one fact you maybe did know…..
Manchester Is a Football Mecca
Home to both Old Trafford and Etihad Stadium, Manchester is definitely a forced to be reckoned with in the footballing world. The National Football Museum is also based in Manchester, attracting football enthusiasts from up and down the country.
For all the football buffs out there, here's some fun facts about Manchester's very own Manchester United and Manchester City.
Ryan Giggs very nearly signed for Man City, instead making a deal with United at the last minute.
When Old Trafford was damaged by German bombs during the second world war, Manchester United played their home games at Maine Road, Man City's stadium at the time. Welsh footballer Ryan Giggs made records with Manchester United, playing a staggering 909 games throughout his 15 year career. Ryan Giggs also holds records for the fastest goal ever scored by Manchester United – in only 15 seconds in a game against Southampton in 1995! Manchester City hold records for the oldest player to ever play in the Premiership. John Burridge was 43 years and 4 months old when he played against Newcastle United in 1995. Former Man U player, Wayne Rooney, is the highest scoring English player throughout Champions League History.
NIKE
Nike Infants Manchester City 2016/17 Home Kit
ADIDAS PERFORMANCE
Mens Manchester United 3-Stripe T-Shirt
ADIDAS PERFORMANCE
Mens Manchester United 316 Presentation Jacket
Shop Now
Shop Now
Shop Now
If you're a football enthusiast looking for the perfect new threads to wear for a game, be sure to check out the men's clothing and kids clothing collections at Loofes. With a selection of sports inspired leisurewear, including Manchester City and Manchester United branded pieces, you and your little ones can represent your favourite team in true style.