Brand In Focus – Fred Perry
/
April 6th, 2016
/
There are currently 0 comments
Fred Perry is one of the most iconic British fashion labels around and is a name that is synonymous with style, quality and of course, tennis. Founded by Fred Perry himself, the brand has been offering its collections since 1952, when the very first Fred Perry tennis shirt was released.
Fred Perry was a championship tennis player who won ten major grand slam tournaments among many other titles and as was a former world number one, he is considered one of the greatest male tennis players of all time. He played professionally for twenty years, starting in 1936, up to his retirement in 1956 and in 1975 was added to the International Tennis Hall of Fame.
In 1952, Fred turned his hand to clothing design and created his very first tennis shirt was a huge success. Initially, only tennis players wore his shirts, but soon his designs hit the mainstream and mods began wearing his tops during the 1950's. This led to a rise in demand and Fred Perry started offering a variety of different colours and styles. During the 60's and 70's the brand grew in popularity among skinheads, mods and the northern soul scene.
Today, the Fred Perry label offers a collection of clothing, footwear and accessories for men, women and children. The brand's designs are still heavily influenced by tennis sportswear but also includes the latest styles and trends, creating a collection of clothing that can be worn for a number of casual and formal occasions.
Here at Loofes Clothing, we feature a selection of pieces from Fred Perry including t shirts, polo shirts, knitwear, jackets and shoes. Take a look at some of our latest Fred Perry products below.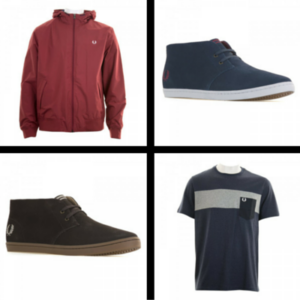 Fred Perry Mens Hooded Brentham Jacket
Fred Perry Mens Byron Mid Suede Plimsolls
Fred Perry Mens Byron Mid Suede Plimsolls